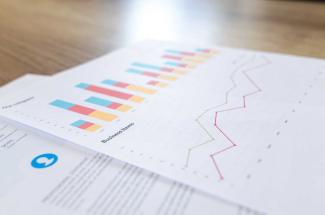 What is Credit and Why is it so Important?
Who hasn't heard some or all of the following?
Be sure to check your credit score periodically.
Apply for a credit card so you can establish credit.
Your credit score dropped.
Your credit score rose.
What exactly does any of this mean and what is considered a good credit score?
According to Credit.com, here are the categories that credit scores fall into, ranging from bad to excellent:
Excellent Credit: 750+
Good Credit: 700-749
Fair Credit: 650-699
Poor Credit: 600-649
Bad Credit: below 600
Your credit score is a necessary fact of life, and whether you think it's fair (it isn't) or not, your credit score can affect a large part of your life.  It's also important to remember that your credit score is separate from your credit report, which is a compilation of your credit history from any financial activity such as credit cards, car loans, and mortgage payments. Your credit report also lists any public filings such as bankruptcy, tax liens, or legal judgements that may have been entered against you.
After you initially look at your credit report, you may have some questions, such as how the credit bureau arrives at the scores that they assign. Credit bureaus such as Experian, TransUnion, and Equifax typically base your score on the using the following:
Payment Consistency. Making payments on time is important, as is consistency.  Do you make your payments by the due date all the time, or are some of them a day or two late?  While it may not seem like a big deal to you, (after all they get paid), credit bureaus will lower your credit score every single time that you are late with a payment, even if it's a few points, and even if you're only a day or two late. The moral of the story? Do everything you can to ensure that your payment is received on time.
Debt to credit ratio. While it's good to have multiple revolving accounts such as credit cards or car loans, credit bureaus look at the amount of available credit you currently have. For instance, if you have a credit limit of $2,000 on a credit card, it's better for your credit score if you use very little of that $2,000 limit. The best scenario is to only charge what you can pay off at the end of the month. That way you display a good debt to credit ratio while also displaying timely payment on your account.
The type of credit accounts you have does matter. Credit bureaus like to see a variety in the type of credit accounts you have, so having a mix of a car loan, credit cards, and mortgage can show that you are handling a variety of accounts responsibly. They also look at the length of time that you've the account has been open, so even if you pay off your credit card balance monthly, it pays to keep those accounts open.
While some events can happen outside of your control, such as medical bills or a lost job, if you properly manage everything that is within your power, your credit score should reflect that.
*This content is developed from sources believed to be providing accurate information. The information provided is not written or intended as tax or legal advice and may not be relied on for purposes of avoiding any Federal tax penalties. Individuals are encouraged to seek advice from their own tax or legal counsel. Individuals involved in the estate planning process should work with an estate planning team, including their own personal legal or tax counsel. Neither the information presented nor any opinion expressed constitutes a representation by us of a specific investment or the purchase or sale of any securities. Asset allocation and diversification do not ensure a profit or protect against loss in declining markets. This material was developed and produced by Advisor Websites to provide information on a topic that may be of interest. Copyright 2023 Advisor Websites.