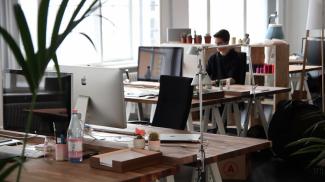 Top 5 Things 20-Somethings Need to Do
If you're in your 20s, rejoice! You're in a great position to create the life you want, starting with a secure financial future. While it's common to feel overwhelmed when entering the workforce full time, there are a lot of things you can do fresh out of college that will help you attain your professional and financial goals earlier than you may expect. Here are a few suggestions to help you get started:
1. Hone your skills. Whether it's a skill that you went to school for, or just something that you're good at, strive to become the best at whatever you do. Also, it's important to understand that your first job out of college will likely be highly forgettable, but can also teach you a number of skills that will serve you well in the coming years. Take this time to absorb as much as you can from your well-seasoned colleagues before you move on.
2. Create a solid loan repayment plan. College debt is on the mind of most graduates these days with good cause.  There are nearly 45 million borrowers, who collectively account for 1.5 trillion in student loan debt. In fact, nearly 60 percent of college students graduate with student debt. The first thing to do when earning a regular salary is to ensure that you have a solid loan repayment plan in place that is both affordable and easily adhered to. Consider looking for a job in the public sector, which can frequently help with repayment of federal student loan burden. And while paying off student loans, be careful about credit card debt, as well, which can quickly balloon out of control.
3. Start building your credit. While this may seem counterintuitive, opening and maintaining credit cards and other revolving credit does not mean that it's ok to go into debt. But establishing revolving lines of credit such as a low-interest rate credit card and using it wisely can help you build up your credit score in a relatively short period of time.
4. Start saving for retirement. I know it seems like you have a lifetime to save for retirement, but believe me, the time goes by very quickly.  There are people all around you in their 40s and 50s that wish they could have a do-over and start saving for retirement earlier. In fact, 1 in 3 Americans have less than $5,000 saved for retirement. Start saving now, using resources such as your company's 401 (k) plan to invest. This is particularly important if your company offers matching contributions, since not contributing leaves a lot of money on the table. If your salary is miniscule, start very small, but start.
5. Invest in yourself. This can be anything from taking an adult education class to taking on graduate school. Take the opportunity to learn all you can from a variety of resources. Investing in yourself also means taking care of your physical and mental health. Eliminate unhealthy habits and seek out professional help if you feel overwhelmed or unusually depressed. And in the process, don't forget to do something nice for yourself.
While your 20s can be a stressful period, it can also be a rewarding time; both personally and professionally.
*This content is developed from sources believed to be providing accurate information. The information provided is not written or intended as tax or legal advice and may not be relied on for purposes of avoiding any Federal tax penalties. Individuals are encouraged to seek advice from their own tax or legal counsel. Individuals involved in the estate planning process should work with an estate planning team, including their own personal legal or tax counsel. Neither the information presented nor any opinion expressed constitutes a representation by us of a specific investment or the purchase or sale of any securities. Asset allocation and diversification do not ensure a profit or protect against loss in declining markets. This material was developed and produced by Advisor Websites to provide information on a topic that may be of interest. Copyright 2023 Advisor Websites.