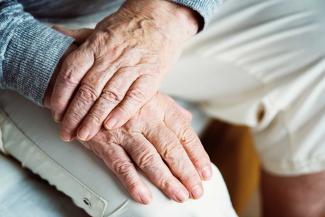 Suddenly Disabled? Here's What to do Next
While no one expects to become disabled, 1 in 4 Americans do so prior to retirement age. An accident, an unforeseen medical event, a catastrophic injury can all lead to temporary or permanent disability. So, what happens when you suddenly find yourself unable to work?
Most people turn to Social Security Disability. Unfortunately, the Social Security Administration offers limited disability benefits that are notoriously difficult to obtain. Difficulty aside, if you are lucky enough to obtain benefits, you won't receive much. In 2018, the average Social Security Disability check is a mere $1,197 per month. And to make matters worse, it can take up to six months from the time you become disabled to receive your first disability check.
Disability insurance is another option. Typically available through your employer, most disability plans offer a variety of options including a choice of waiting periods (the time it takes for benefits to kick in) as well as the length of time you will receive benefits. Most plans offer the option to receive benefits for a set number of years, or you can opt to receive benefits up until retirement age. Premiums will vary, based on the options chosen. And unlike Social Security Disability, most disability plans will pay you up to 60 percent of your current income when you file and are approved for disability.
For sole entrepreneurs, many professional organizations offer members the option to purchase a variety of insurance plans, including disability insurance, with premiums much lower than if purchased individually.
Whether you're applying for disability from the Social Security Administration or from a private insurer, there are a few things you can do to make the process a bit smoother.
Get the Support of Your Physician
While it may seem counter-intuitive, many newly disabled people forget to include their physician in the process. Filing a disability claim is time consuming for both the person disabled and their physician. As is the case in most disability applications, having your physician on board to substantiate your claim is paramount. However, many doctors are less than enthusiastic about being a part of this process. Make sure that your physician is willing to provide you with the documentation necessary to backup your disability claim.
Check the Substantial Gainful Activity (SGA) Limit
For those applying for Social Security Disability, be aware that the Social Security Administration imposes a monthly income limit. If your current income exceeds the agency's SGA limit, you are automatically deemed ineligible to apply, so it's important to check the current limits prior to beginning the application process.
Organize Your Medical and Employment Records
Be sure to obtain and organize copies of all of your medical records that pertain to your current condition. While it's not necessary to obtain all of your medical records, the more detail you can provide about the onset of your disability, the better. You'll also need to provide a detailed work history including a brief job description which will be used by the appropriate agency to determine if you can perform your job, or any job with your current disability.
Like anything, being prepared helps. By being informed, you'll be better able to navigate the disability process, should catastrophe strike.
Resources
https://www.nadr.org/news/news.asp?id=368372
https://www.fool.com/retirement/2017/02/07/why-you-cant-rely-on-social-security-disability-in.aspx
*This content is developed from sources believed to be providing accurate information. The information provided is not written or intended as tax or legal advice and may not be relied on for purposes of avoiding any Federal tax penalties. Individuals are encouraged to seek advice from their own tax or legal counsel. Individuals involved in the estate planning process should work with an estate planning team, including their own personal legal or tax counsel. Neither the information presented nor any opinion expressed constitutes a representation by us of a specific investment or the purchase or sale of any securities. Asset allocation and diversification do not ensure a profit or protect against loss in declining markets. This material was developed and produced by Advisor Websites to provide information on a topic that may be of interest. Copyright 2021 Advisor Websites.