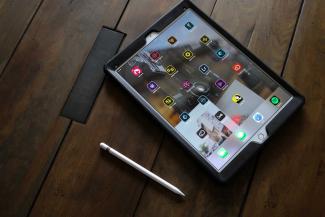 Investing Made Mobile: 5 Apps for the Smart Investor
The stock market is a fast-flying, quick U-turn, up and down game to play. It's both exhilarating and exhausting. And, if you're like most people, you're exceedingly grateful for your financial advisor, broker, and/or portfolio manager. They keep your market investments growing (generally), and give you peace of mind when it comes to overall stock market stability. But, even with the experts managing the majority of your investments, it can be incredibly rewarding to manage some of your stock investment (even a small portion of it). Plus, investing doesn't have to be so scary; it should be cheap and easy.
The fleeting and furiously changing stock markets require constant attention to detail and lickity-split decisions that can turn the tables in your favor or send your values plummeting. That's why investment-centric mobile apps are a match made in finance heaven—the ability to invest at your fingertips from anywhere on a device that you already always have in your purse or pocket, simply makes sense. (Investing via mobile app is also a great way for beginner investors to experiment with small initial amounts to experience how the stock market works.) Give investing via mobile app a try on these top picks:
If you love playing games on your phone, this may be the app for you. With the intuitive user functionality, Kapitall seamlessly allows for trading to be conducted by dragging and dropping icons representing different companies. Take the "game" to the next level by competing with other users for cash prizes in virtual trading tourneys. And, just like a video/smartphone game, you can collect Koins the more you use the app and then cash them in at the app store.
Even if you're a regular at investing, sometimes a new trading program takes a little getting used to. Want to try it out before you put your own money on the line? Kapitall has you covered with a virtual $100k in a portfolio you can practice with before putting your real investment on the line. Fees range for the different actions you can take within in the app, but there's a flat commission rate of $7.95 per trade. (Registration is free and there are no hidden fees.)
This free app isn't a platform for actual investing. It's more like your own stock expert on-call 24/7 to offer an unbiased explain the market. The app helps users comprehend what's best for their investments through simple, clear chart and portfolio comparisons. The app is free because FinMason is not  giving out any personal advice; other than the invaluable information presented, they have nothing to sell.
Robinhood—one of the more popular, well-known apps in the app store—launched in March 2015 with a commitment to cutting down the brokerage overhead. The app's greatest selling point is there are no fees to buy or sell stocks. Plus, there is no minimum amount of cash needed to use the platform, so you don't need to go all in right away to try it out. Another handy function of the app is its notifications on scheduled events like splits and dividends. You can count on the fact that the pricing information you'll see on Robinhood is true, thanks to real-time streaming of data from exchanges.
When it comes to mobile apps, Acorns is as easy as it gets as it runs automatically after the initial set-up which begins by linking your credit and debits cards to the platform. The app then rounds up to the nearest dollar on the purchases made on your cards. (It's the loose change you carry around in your wallet or pocket and deposit into a home change bucket...but instead of a loose change jar, it's an app that then invests it in various funds. The funds it invests in are decided on upon your risk tolerance—are you an investor, gambler, or trader? Acorns charges 0.25 percent of annual assets for accounts over $5,000, and only a $1 a month for accounts that stay under $5,000.
Even if you're a passive investor, you're likely nervous about losing track of the status of some of your accounts. Betterment allows users to sync other accounts, so you can view the comprehensive picture of your net worth. App set-up starts off easy with a few questions: Age? Retired or not? Annual income? And then, choose an investment goal, after which Betterment invests your money in a diversified manner in global low-cost index funds. The app's algorithm then tells users where they're at in relation to the selected investment goals. Once you set your initial portfolio allocation you're not locked in; you can factors like stock allocation and the investment timeline. Pricing and annual fee percentage is dependent on account balance and there are no restrictions on withdrawals or transaction fees.
*This content is developed from sources believed to be providing accurate information. The information provided is not written or intended as tax or legal advice and may not be relied on for purposes of avoiding any Federal tax penalties. Individuals are encouraged to seek advice from their own tax or legal counsel. Individuals involved in the estate planning process should work with an estate planning team, including their own personal legal or tax counsel. Neither the information presented nor any opinion expressed constitutes a representation by us of a specific investment or the purchase or sale of any securities. Asset allocation and diversification do not ensure a profit or protect against loss in declining markets. This material was developed and produced by Advisor Websites to provide information on a topic that may be of interest. Copyright 2021 Advisor Websites.