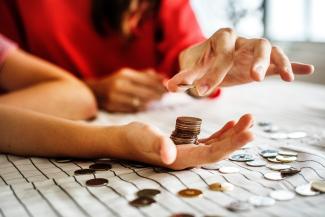 How to Protect Yourself from Zombie Debt
While the name may be amusing the reality of zombie debt is anything but funny. Zombie debt is old debt that has been written off years ago, only to be sold to debt collectors for pennies on the dollar. In many cases, the debt is years old, and may not even be valid.
Zombie debt collectors use a variety of scare tactics to intimidate consumers, trying to convince them to make even a small payment, which may seem trivial, but actually works to reset the debt period, meaning that any debt past the statute of limitations for collection (usually 4-6 years) can be reactivated with even a small payment, leaving the consumer on the hook for paying the debt off.
If you receive a letter or a phone call asking for payment on a debt that you do not recognize, or a debt from years ago, there are several things you should do.
If someone calls about payment on an old debt, do not speak to them on the phone. Instead, if they want to contact you, tell them to send something to you in writing, but do not provide any contact information including your address.
If you do receive a collection notice in the mail, request that they validate the debt. If you do so, be sure not to provide any details such as whether the account is yours. The burden is on the collector to provide the details that can verify that the debt is yours, including documentation from the original creditor that the debt is valid, that the amount they are asking for is valid, and that they are the rightful owners of the debt.
Do some research. Take a look at the company itself. Are they actually a law firm, as they purport to be, or are they a collection agency?
Be aware of your rights. Unfortunately, there is no law against zombie debt, so creditors can try to initiate collection proceedings. However, creditors are time-barred from suing you for old debt, with the expiration date for suing on old debt typically 4-6 years, though it varies from state to state.
Do not promise to make a payment, or worse, send in a small payment, even if the debt is yours. If you promise to make a payment or send in a small payment, the debt ceases to be time-barred, as mentioned above, making it easier for the collector to collect and possibly sue you for non-payment.
Just tell them to stop. You have the right to ask the collector to stop contacting you, but like the debt validation, this request must be made in writing. Be sure to send the letter certified mail with return receipt, so you have verification that they received the letter. If they continue to harass you, you can file suit against them.
Do not ignore notice of a lawsuit. While some collection agencies send threats of a lawsuit, if you do receive a summons, do not ignore it. File a timely answer and consult with an attorney to ensure that you don't forfeit your legal rights.
For more information on zombie debt and how to protect yourself, consult the Fair Debt Collection Practices Act.
*This content is developed from sources believed to be providing accurate information. The information provided is not written or intended as tax or legal advice and may not be relied on for purposes of avoiding any Federal tax penalties. Individuals are encouraged to seek advice from their own tax or legal counsel. Individuals involved in the estate planning process should work with an estate planning team, including their own personal legal or tax counsel. Neither the information presented nor any opinion expressed constitutes a representation by us of a specific investment or the purchase or sale of any securities. Asset allocation and diversification do not ensure a profit or protect against loss in declining markets. This material was developed and produced by Advisor Websites to provide information on a topic that may be of interest. Copyright 2020 Advisor Websites.