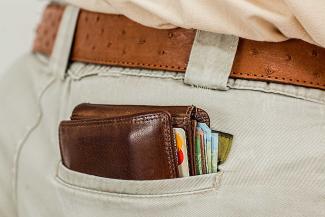 How do I save for a goal?
The goal for your saving plan is up to you. Some people enjoy travel or the latest electronics. Others may save for school or a home purchase. While there are a thousand ways to spend your money, there's only one way to save it  — stick to the plan.
Specific goals are important, so be sure to define your goal. Once you know how much you need to save, it's a lot easier to put together a plan, a timeline, and the definition of success. Retirement is a goal without a specific dollar-value attached to it, but you can set a starting goal without knowing all of the details. Plans can change over time (working longer, moving to part-time, etc.) but it's always best to start with a specific goal in mind. Whether it's the price of that new car or a rough idea of the down payment you need for a new home, be sure to set a goal and write it down.
After the goal, you'll need a timeline. Setting yourself up for success means a plan and a schedule. Want to buy a new car next year? Now is the time to figure out your monthly (or weekly) contributions to your savings goal. Timelines can be simple ("I start school in September") or complex based on changing circumstances, like retiring when you feel "ready". No matter what the goal, put a timeline on it. 
Once you have a goal and a timeline, you can put together a strategy. A monthly savings goal is easy to integrate into a spending budget. Don't have a spending budget? Check out these online budgeting tools to get started. It's so much easier to save when you track your spending. Knowledge is key to carving out monthly savings to put toward your goal. Try to find "extra" money in your budget and be prepared to make sacrifices. Takeout meals, expensive coffees, and weekend vacations may be casualties of your effort to save. Remember to keep it all in perspective, and be self-aware when it comes to your monthly spending.
Once you get the ball rolling, saving money can become addictive. It's fun to watch your savings pile up as you make contributions over time. Don't be tempted to spend it  — consider locking away your savings in an account unlinked to your credit and debit cards. If you are saving over the longterm, it's worth considering investing your savings to earn money while you wait. If you plan to spend the money in the next few months, keep it liquid. If retirement is your goal, you should seek professional financial advice to meet your goals using stocks, bonds, and other securities.
Saving for multiple goals can make things tricky, but it's easy to keep up with your contributions using preauthorized deposits. Break down each saving goal into an account (car, house, vacation, new iPhone, etc.), and tell your bank to deposit a portion in each account on every payday. You can always tweak the amounts or move funds between them if need be. 
Good luck with your savings plans and be sure to treat yourself every once in a while. It's great to save, but remember to spoil yourself and "cheat" on your strict budget here and there.
*This content is developed from sources believed to be providing accurate information. The information provided is not written or intended as tax or legal advice and may not be relied on for purposes of avoiding any Federal tax penalties. Individuals are encouraged to seek advice from their own tax or legal counsel. Individuals involved in the estate planning process should work with an estate planning team, including their own personal legal or tax counsel. Neither the information presented nor any opinion expressed constitutes a representation by us of a specific investment or the purchase or sale of any securities. Asset allocation and diversification do not ensure a profit or protect against loss in declining markets. This material was developed and produced by Advisor Websites to provide information on a topic that may be of interest. Copyright 2023 Advisor Websites.