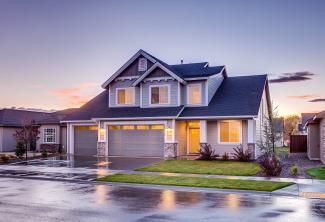 Buying a house is one of the biggest, if not the biggest purchase you'll make in your lifetime. Here are some tips and tricks for ensuring that the entire process is as stress-free as possible. 
Prior to starting your search, make sure you know how much house you can afford. It's so easy to fall in love with a particular home, only to find out that you simply cannot afford the mortgage. To buy a house that falls within your budget, look for one priced within two and a half to three times your annual income.  For instance, if you and your spouse earn $150,000 annually, you can typically qualify for a house in the $400,00 to $450,000 range. Of course, anything less than that will lessen your financial strain accordingly.
Be sure to use your own real estate agent. Those searching for a home tend to call the name on a For Sale sign when inquiring about a house, or they attend an open house and talk to the agent onsite, but that's not always a good idea. Ideally, you'll want your own agent to show you the home, since the listing agent works for the seller, and their first loyalty is to the seller. In some states, real estate agents cannot work for both the buyer and seller, so this may not even be an issue where you live, but if you want an unbiased agent, you'll want to get your own. 
Don't exclude using a real estate agent if you're having a home built. An agent can help guide you through the massive amount of paperwork and make sure that you're not signing away your rights should you have issues down the road. Most builders have built in concessions for agents, so you shouldn't have to worry about paying them out of pocket.
Be sure to have a thorough inspection of the home by a qualified inspector. One of the things that you don't want to skimp on is hiring a home inspector. Talk to friends for a recommendation or find out who your real estate agent typically works with. It's so important that any potential issues are uncovered prior to finalizing any sale, and like anything else, not all home inspectors are created equal. And while home owners always have the option to correct any potential issues that may be found, you also have the option to walk away from the sale without penalty should any major defects be found by the inspection that you're simply not comfortable with.
Be prepared to move quickly. While it's always a balancing act when coordinating the sale of your current home with the purchase of a new home, be prepared to move quickly should your home sell before your new home is move-in ready. While many closings can be coordinated to eliminate this problem, it happens more frequently than you may think.  Make sure that you have a plan in place should you need to move sooner than planned.
When the last piece of furniture has been moved and the last box unpacked, or at least in the correct room, you can finally breath a sigh of relief and begin to enjoy your new home. 
*This content is developed from sources believed to be providing accurate information. The information provided is not written or intended as tax or legal advice and may not be relied on for purposes of avoiding any Federal tax penalties. Individuals are encouraged to seek advice from their own tax or legal counsel. Individuals involved in the estate planning process should work with an estate planning team, including their own personal legal or tax counsel. Neither the information presented nor any opinion expressed constitutes a representation by us of a specific investment or the purchase or sale of any securities. Asset allocation and diversification do not ensure a profit or protect against loss in declining markets. This material was developed and produced by Advisor Websites to provide information on a topic that may be of interest. Copyright 2023 Advisor Websites.