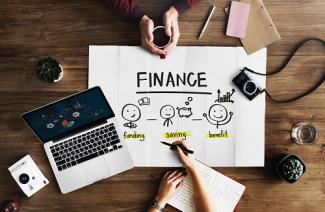 Here are the answers to some of the most frequently asked financial questions.  
I've just started my first job.  Do I really have to start saving for retirement now?
Yes.  While it's important to wait to invest until student loans and any credit card debit has been paid off, if your current employer offers a 401K or 403B Plan, you should take advantage of it; particularly if they offer a matching contribution.  You can certainly start slow and work your way up once you start making more money, but while retirement may seem far away, the time goes by so much faster than you could ever imagine. Be prepared. Start saving now.
1. When is it better to rent than to buy?
If you're new to an area, it's best to scout out different areas prior to making a permanent commitment to one place. If your job includes a possible transfer in the future, it's probably best to hold off on buying until you're relatively certain you won't be going anywhere soon.  Buying a home means a commitment to an area. Be sure that you're in a position to make that commitment prior to buying.
2. Is a savings account the best place for my money?
It can be, depending on what you're saving for.  A traditional savings account offers miniscule interest rates, but offers convenience and easy access to funds, should you need them.  For those with a higher balance, a Money Market account may be better, as the interest rate is typically based on your current balance, so the higher your balance, the higher your interest rate.  If quick access to funds is not imperative, a CD or Certificate of Deposit may be an option. You can choose the time frame that suits you, with deposit times ranging from one month to five years, with the longer periods paying the most interest.  CD's are not a good option if the possibility of needing funds quickly exists.
3. Is it a good idea to retire abroad?
While there are a ton of publications that enthusiastically tout the benefits of retiring abroad, it's best to proceed with caution. While the lure of exotic lands and new places to explore is certainly a draw, remember that the novelty will eventually wear off.  Proximity to family and friends, health care costs, and actual cost of living are some of things you'll have to consider prior to making that commitment. If you're serious about retiring abroad, consider a trial run of about six months, which will give you enough time to adjust to a new country and see if a lengthier stay is a possibility.
4. Can I really live on my Social Security check?
Maybe.  While it's best to have other retirement funds available, that's not always possible for many people nearing retirement age.  But there are ways to live on Social Security alone, starting with delaying drawing on funds until age 70. While this may not be possible for everyone, if you can continue to work, even part time, until age 70, your benefits will be significantly larger when you do start to draw them. You may want to consider relocating to a state with no personal income tax.  At the very least, make sure that the state you do choose to move to does not tax Social Security benefits.
Resources
https://www.aarp.org/retirement/social-security/info-2016/ways-to-retire-on-social-security-alone.html
https://money.cnn.com/2018/03/15/pf/where-to-put-your-money/index.html
*This content is developed from sources believed to be providing accurate information. The information provided is not written or intended as tax or legal advice and may not be relied on for purposes of avoiding any Federal tax penalties. Individuals are encouraged to seek advice from their own tax or legal counsel. Individuals involved in the estate planning process should work with an estate planning team, including their own personal legal or tax counsel. Neither the information presented nor any opinion expressed constitutes a representation by us of a specific investment or the purchase or sale of any securities. Asset allocation and diversification do not ensure a profit or protect against loss in declining markets. This material was developed and produced by Advisor Websites to provide information on a topic that may be of interest. Copyright 2020 Advisor Websites.