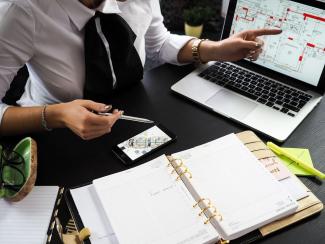 Have you ever wondered exactly what those initials after a financial professional's name mean?  You're definitely not alone. The easy way to tell is to visit the Financial Industry Regulatory Authority, which provides a list of professional designations and what they mean.  Below, we've created a short list of some of the frequently used designations and what they mean.
AAMS – Accredited Asset Management Specialist – AAMS designation is considered an industry benchmark specifically designed for new asset managers who focuses on individual and small business clients.
APMA – Accredited Portfolio Management Advisor – APMA designation is for those that focus on portfolio creation and maintenance.
ATA – Accredited Tax Advisor – Typically CPAs, ATAs must have five years of experience in tax preparation, compliance, and planning in order to obtain this designation offered by the Accreditation Council for Accountancy and Taxation.
AWMA – Accredited Wealth Management Advisor – this designation is for those that focus on services exclusively for their high net worth clients.
CCFS – Certified College Funding Specialist – those holding a CCFS designation will need to be a licensed professional in securities, insurance, or accounting, or hold other financial certifications.
CEP – Certified Estate Planner – to obtain this designation, a valid license in the legal, financial, or tax profession is required.
CFC – Certified Financial Consultant – offered by the Institute of Financial Consultants, this designation is awarded to those with at least three years of experience in the financial profession and have completed the CFC program.
CFP – Certified Financial Planner – In order to obtain a CFP designation, a bachelor's degree and three years of full-time financial planning experience is required.
CFS – Certified Fund Specialist – designation is for financial professionals such as accountants, advisors, bankers, or money managers and specializes in mutual funds, ETF and REITs.
CRPC – Chartered Retirement Planning Counselor – this designation indicates a focus on both pre and post-retirement financial needs for clients.
CRPS – Chartered Retirement Plans Specialist – Similar to the CRPC, the CRPS professional works with companies to build retirement plans and may administer company retirement plans as well.
CMFC – Chartered Mutual Fund Counselor – this professional designation focuses on mutual funds and their uses as an investment option.
RFC – Registered Financial Consultant – this designation is offered by the International Association of Registered Financial Consultants and is given to candidates who have three years of experience as a financial planning professional, hold the required licensing for their profession and have a solid business record.
RMA – Retirement Management Advisor – this designation is given to those that have at least three years of professional financial services experience, hold a CIMA, CPWA, CFP, CFA designation, and completed the RMA course.
WMA – Wealth Management Specialist – the WMA designation is designed for sales assistants and others starting out in the financial industry that want to support high net worth clients.
There are nearly two hundred professional financial designations that can be used by financial professionals.  Understanding some of the more common designations can help you in your search to find a financial services professional that can provide you with the services you need.
*This content is developed from sources believed to be providing accurate information. The information provided is not written or intended as tax or legal advice and may not be relied on for purposes of avoiding any Federal tax penalties. Individuals are encouraged to seek advice from their own tax or legal counsel. Individuals involved in the estate planning process should work with an estate planning team, including their own personal legal or tax counsel. Neither the information presented nor any opinion expressed constitutes a representation by us of a specific investment or the purchase or sale of any securities. Asset allocation and diversification do not ensure a profit or protect against loss in declining markets. This material was developed and produced by Advisor Websites to provide information on a topic that may be of interest. Copyright 2023 Advisor Websites.