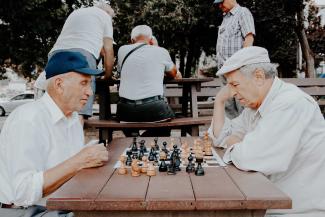 The Best Place to Buy Life Insurance
There are literally hundreds of life insurance providers that offer thousands of life insurance products through a myriad of distribution channels.  Life insurance can be purchased in the traditional way, from an agent of a life insurer, from an insurance broker, from a bank, a financial planner, direct from an insurer.  Much of the buying process can be completed online or with the personal assistance of an expert.  Narrowing down the choices of what's the best place to buy is a matter of two important considerations: 1) How strong is the life insurer financially?  2) How prepared are you to make a purchase decision?
Stick with Quality
You can make the process much simpler by refining your search to the top 30 life insurers based on their financial strength and claims paying ability. These companies that have earned an A++ or A+ rating from A.M. Best, and AA or AAA rating from Standard and Poor's, are considered the best positioned, financially, to deliver on their long term promises.  Among these companies you will find an ample selection of competitively priced life insurance products, so there is little reason to expand your search beyond this list.  
Many of these companies sell their products through different channels, so you are not limited to having to buy directly from the life insurer.  A good insurance broker will work with the majority of these top companies and all of these companies can be researched, in depth, through online comparison sites.
How Prepared Are You to Make a Purchase Decision?
The process for buying life insurance has layers of complexities that may be difficult for the average person to navigate on their own.  The first critical determinant, how much to buy, is too important to leave to a guess or estimate.  Determining the right kind of life insurance to buy is another key consideration.  Even the most basic term policies come in different flavors and provide varying levels of financial security.  The medical underwriting process can also be complex if there are any pre-existing conditions.  There are also considerations for correctly naming beneficiaries and the best way to own the life insurance policy. There are also tax and estate planning considerations that factor into policy ownership.  If you are considering a permanent type of life insurance such as whole life or variable life, there are a myriad of policy features and riders that can impact the way the policy performs for you and your family, while you are alive and after you die. 
When You Know What You Need
If you are prepared to educate yourself on all of these matters and conduct your own extensive research into the companies and products, and, you are in excellent health, then the best place to start your buying process is online.  There are plenty of online financial calculators that can perform simple needs analysis for determining the amount of life insurance to buy.
Online comparison sites provide a  comprehensive list of companies and their products to research and compare.  Detailed information on product features, rates, fees, and options is available with the click of your mouse.  In most cases, once you request additional information or you select a product to buy, you will be contacted by an agent or representative of the provider. 
When You're Not Sure What You Need
If you are not sure of what it is you should have, and have neither the time nor inclination to do all of the leg work, the best place to buy life insurance is with an experienced insurance broker or independent financial advisor.  Unlike life agents, who represent a specific life insurer, brokers work with a number of life insurers and represent their own clients.  This means, ideally, that the broker will work on your behalf, and with your interests in mind, to find the most appropriate life insurance solution.
To find the best insurance broker, ask around for referrals from friends, colleagues and relatives.  Create a list of qualifications and credentials that will be your minimum requirements. It should include experience in the business, emphasis on life insurance planning, and a commitment to excellence as demonstrated by their professional designations such as CLU, ChFC, or CFP. 
Your insurance broker should be able to describe the process by which they help you identify the right product, the right amount and the right way to structure the policy to fit your needs and preferences.  It should include a thorough analysis of your current financial situation and your long term goals for you and your family.
Buying life insurance can be a complex process and, as your situation and needs change, it would be important to be able to avail yourself of the knowledge and services of an expert, ideally, one who knows you.  You'll pay the same amount of premiums whether you buy direct or through a broker, so you might as well receive the benefit of the services and expertise that a broker or agent offers.
*This content is developed from sources believed to be providing accurate information. The information provided is not written or intended as tax or legal advice and may not be relied on for purposes of avoiding any Federal tax penalties. Individuals are encouraged to seek advice from their own tax or legal counsel. Individuals involved in the estate planning process should work with an estate planning team, including their own personal legal or tax counsel. Neither the information presented nor any opinion expressed constitutes a representation by us of a specific investment or the purchase or sale of any securities. Asset allocation and diversification do not ensure a profit or protect against loss in declining markets. This material was developed and produced by Advisor Websites to provide information on a topic that may be of interest. Copyright 2021 Advisor Websites.