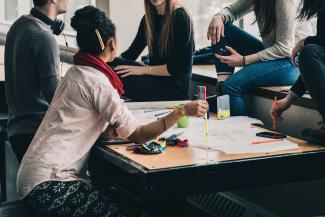 Affording an A+ Education
Too wealthy for financial aid and too strapped to pay out of pocket? Turn to other options.
It seems like just yesterday your child was learning how to ride a bike and tie their shoes and now they are getting ready graduate high school with a college acceptance letter hot in their hand. You couldn't be more proud…or anxious. As a parent you always planned to pay for your student's college if they wanted and could to go. It seems like another support step toward their generalized "success" in a modern world where 35 percent of the job openings will require at least a bachelor's degree. And, by 2020, 65 percent of all jobs will require training and postsecondary education beyond high school.
While you cannot wait to help them set-up the dorm room and visit on parent's weekend, you feel you need to be able to help pay for it first. You worked hard and are proud of what you've earned and saved. But, frankly, it would be impossible to pay for the university fully out of pocket. On the flip side, your financial status puts your child out of the running for financial aid—you're too wealthy (even if it doesn't seem like it). And, you're not alone; according to Savingforcollege.com, 49% of parents want to pay for the majority of their child's college, but just 32% are actually confident they can cover the costs they want to.
Luckily, there are a couple options:
Talk to your Financial Advisor
Before you do anything with money, schedule a meeting with your trusted financial advisor. They may suggest some of the options discussed in this article or have other ideas on how to afford your student's future. Most importantly, they'll know your personal situation, be able to take a comprehensive look at your financial assets, and recommend the best plan of action moving forward.
Look to Home Equity
Depending on the market and how risk averse you are, look to your home to help with the tuition bill. If mortgage rates are low and home values are high, it could be a good time to unlatch your equity. There are both benefits and detriments to scrutinize when it comes to the tactics of: getting a home equity loan (otherwise known as a second mortgage), a cash-out mortgage refinance, or home equity line of credit. A benefit is that using home equity could be a much better deal than other financing options when it comes down to actual hard numbers, according to an interview win USA Today with Kevin McKinley, a financial planner and principal/owner of McKinley Money LLC in Wisconsin. Yet, the option is also risky because it places a highly valuable asset in a precarious position and a decline in value paired with missed mortgage payments could result in losing the house.
Student Loans…For Parents
Federal Option
Loans, while often painful to repay, can provide the funds needed for school straight away. Of course there are student loans for, well, students, but there are also loans for parents as well. Start by filling out the Free Application for Federal Student Aid (FAFSA). The FAFSA could mean grants, work study, and scholarships, but it can also mean you can apply for a federal direct PLUS loan. This type of loan gives the money for school with the benefits of optional payment deferment while the student is in school (although interest will still accrue), and flexible repayment schedules. You will only be able to borrow the cost of your student's school after subtracting any other financial assistance received. However, it's important to be aware of the negatives such as the fixed interest rate at 6.31% (as of July 1, 2016), 4.28% loan fee (as of October 1, 2016), and annual tax deduction limit of $2,500. Nerdwallet ranks the Direct PLUS loan as one of the best bets as far as reputable lenders go.
Private Option
Of course private lenders are also an option for parents to get loans. This can be advantageous for those in a strong financial spot with a high credit score, which may qualify you for lower interest rates than the federal loan option.
A couple newer options on the loan market from the traditional bank institution lenders include SoFi, which offers some of the lowest interest rates, and College Ave, which offers more options for repayment plans and term length. Both include no origination fees.
Whether you or your student end up taking on the majority of the cost of paying for college, know that it's an important investment and a big one! Include your financial advisor in any of your decisions, so that they assist you in looking at your entire financial picture.
Resources
*This content is developed from sources believed to be providing accurate information. The information provided is not written or intended as tax or legal advice and may not be relied on for purposes of avoiding any Federal tax penalties. Individuals are encouraged to seek advice from their own tax or legal counsel. Individuals involved in the estate planning process should work with an estate planning team, including their own personal legal or tax counsel. Neither the information presented nor any opinion expressed constitutes a representation by us of a specific investment or the purchase or sale of any securities. Asset allocation and diversification do not ensure a profit or protect against loss in declining markets. This material was developed and produced by Advisor Websites to provide information on a topic that may be of interest. Copyright 2021 Advisor Websites.